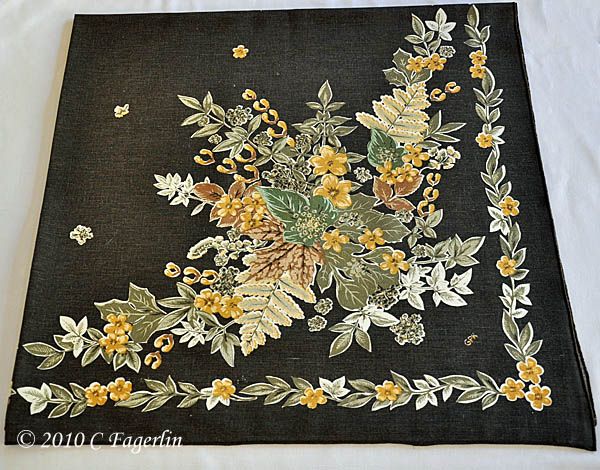 Linen, GPK (Grace Patricia Kelly, the actress) autumn floral on brown ground, printed with GPK, no tag.
Click the image below to see this tablecloth in a tablescape.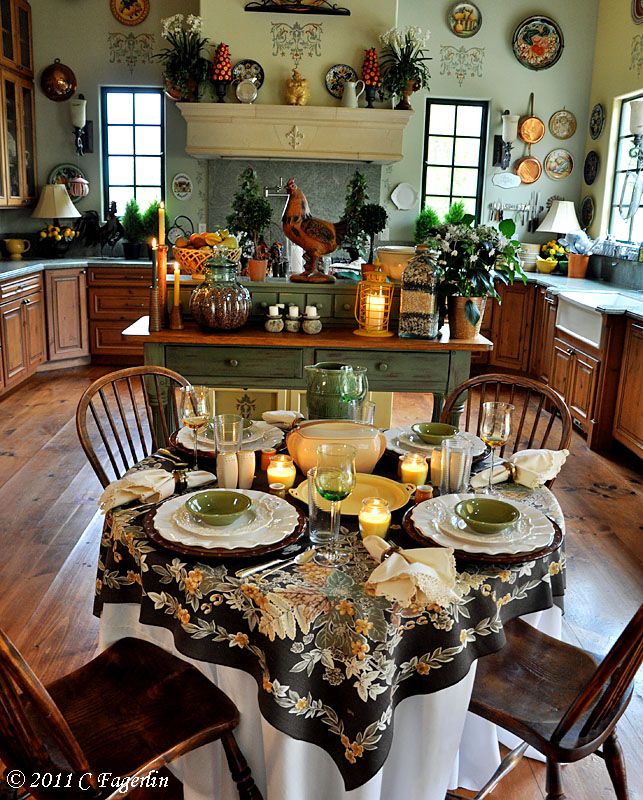 These GPK napkins don't match this cloth, but are the only other GPK linens in my collection.
You can read more about them at the following link:
GPK Linens
Springmaid "Selia" pattern came as tablecloths, napkins, sheets.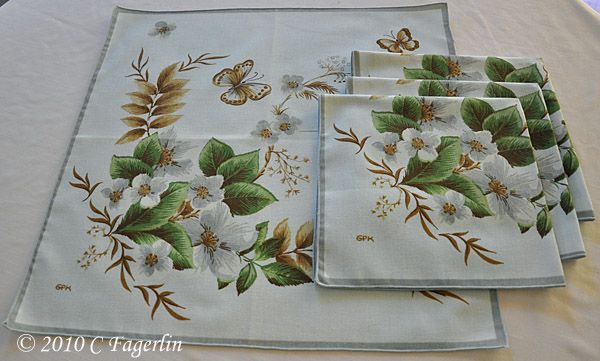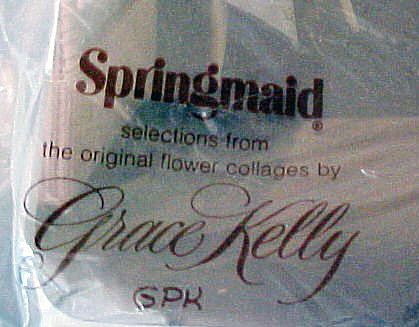 Another set of sheets and napkins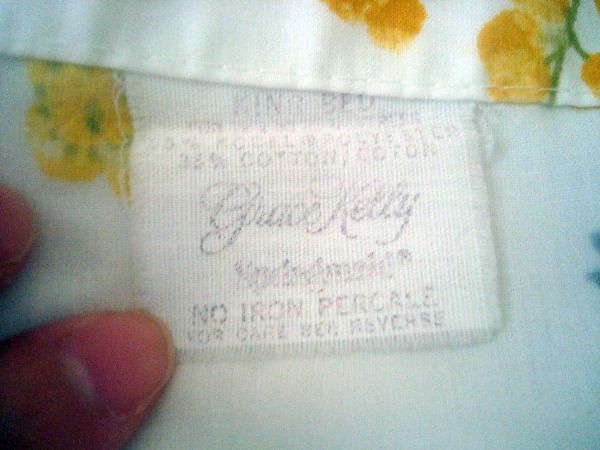 An article from The New York Times
Linens with a touch of Princess Grace
An early example of the power of celebrity
November 28, 2004|By Sally Stich, New York Times Special Features
It's romantic to think my children were conceived on them, but I suspect they'd already been consigned to the back of the linen closet by the time we got around to that. Still, I couldn't bear to get rid of them. They were Grace's sheets. The Grace. To-Catch-a-Thief-and-Marry-a-Prince Grace.
This year marks the 25th anniversary of Springmaid's Grace Kelly Collection of linens, one of the early examples of celebrity-endorsed home furnishings and now a sought-after collectible. The princess, who would have celebrated her 75th birthday this year, would have loved the public's attachment to her midlife hobby-turned-art-for-the-home.
My Princess Grace sheets arrived on our fourth wedding anniversary in 1979. The pattern -- Fiona -- was an attractive floral print done up in dusky earth tones. The only overt connection to the princess: a discreet signature -- "GPK" -- her initials pre-royalty.
In hindsight, the irony of the gift was obvious. As my marriage enjoyed its youth, hers was suffering a midlife crisis. She lived away from Prince Rainier more often than with him. Grace's solace came from arranging dried flowers.
The idea for the line of linens was born in 1977. Springmaid sheet stylist Neil Mandell, a self-described celebrity junkie, had discovered the princess' penchant for dried floral arranging in a People magazine article that detailed her hugely successful exhibit at a Parisian art gallery.
Newly hired at Springmaid, Mandell had bombed with his first presentation: a line of sheets based on Barry Manilow's lyrics. It turned out his boss hated Barry Manilow. The Grace Kelly idea, however, seemed like a winner.
After all, according to John O'Donoghue, then president of the Spring Mills Consumer Products Division in Manhattan, "flowers have long been the backbone of styling in the home-furnishings industry."
And, adds Mandell, now the creative director at the 5th Avenue showroom of Franco Manufacturing Co., women love flowers in the bedroom. "They evoke romance and relaxation," he says. Mandell also wanted to tap into the company's burgeoning association with "designer-endorsed" linens.
A leader in the industry, Springmaid was among the first to introduce a couture line. Three of their hottest collections in the 1970s -- pre-GPK -- were the Bill Blass collection, the Guggenheim collection and the Metropolitan Museum of Art collection.
Getting Grace Kelly's floral designs might just save Mandell's job. In fact, when his boss -- the one who hated Barry Manilow -- heard the idea, he immediately raised three objections. First, royalty wouldn't endorse commercial goods. Second, Princess Grace didn't need the money. Third, they'd never be able to reach her.
To the Philadelphia-born Mandell, those were fighting words. Playing six degrees of separation by using his Philly connections, he landed the Princess' private phone number in Paris within 24 hours. The next day he gave his boss the contact information, as well as a sales pitch to woo her.
"We needed to approach her as an artist, not a princess," says Mandell, "and we needed to suggest that her royalties could go to her favorite charities since she didn't personally need the money." Ultimately, "we" did not include Mandell. Senior management wasn't letting some upstart seal the deal.
Still, the "kid" had given them sound advice. Her Highness said yes, with little arm-twisting from the Springmaid brass. There was only one stipulation: Her face was never to be used in advertising. Any department stores that refused to comply with that stipulation would not be allowed to carry her goods.
The line premiered in 1979 with three patterns: Fiona, Celia and Tamora. All were hugely successful. Even Grace was pleased.
In a news release in 1978, she was quoted: "As an artist, I feel it is fulfilling to extend my art into practical and beautiful home furnishings. Through these designs, I hope to share with others the beauty that I've found in nature."
Springmaid ultimately released five patterns, and Princess Grace received more than $1 million in royalties, which she donated to her favorite charities. When she died tragically in 1982, Springmaid discontinued the line.
Today, 25 years after they were launched, these linens are a much sought-after cross-collectible, says Pamela Glasell, author of "The Collectors' Guide to Vintage Souvenir Tablecloths and Linens" (Schiffer, 315 pages, $29.95), coveted by vintage linen collectors and Grace Kelly memorabilia hounds.
A mint-condition "Fiona" tablecloth, which originally cost around $12, could fetch up to $200 today. But that's only if you can find one. As for my soft-as-butter sheets, tucked neatly in the back of the linen closet, I'm told I could get upward of $250. But I don't care, because I'm not parting with them.
Even though I haven't used them in 20 years, to me, they still represent the marriage of celebrity and domesticity, before every household item carried the name of a movie star or TV idol -- when a celebrity endorsement really did transform the ordinary into the extraordinary.